Snake and Reptile shows Melbourne, kids snake parties Melbourne and reptile snake shows Victoria, Melbourne, Snake busters Melbourne, snake shows Melbourne, kid's reptile parties Melbourne, Kids reptile shows Melbourne,
Snake catcher Melbourne, Corporate shows Melbourne, Snakebusters reptile parties, Melbourne
Snake and Reptile shows with Snakebusters snake charmers are rated as best for three main reasons.

1/ Snakebusters are the only snake charmers and reptile shows in Melbourne with "hands on reptiles", where kids and adults can actually hold the reptiles as opposed to just getting close.
2/ Snakebusters are the only company with the expertise to be able to have a fully legal deadly snake show in Melbourne (ours the only snakes in Australia that are vet certified, surgically devenomized and microchipped in accordance with the OH and S Act 2004 and other relevant laws). All other snake shows are both an unacceptable risk and also highly illegal! ... don't take risks with a novice snake charmer!
3/ Snakebusters are the only reptile show people with more than 30 verifiable years in the reptile business ... experience matters!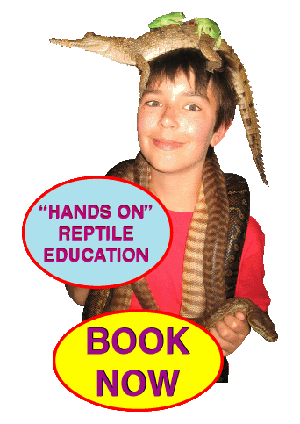 Hands on reptiles, is one of several registered trademarks for the following:

| | | | | | | | | | | | | |